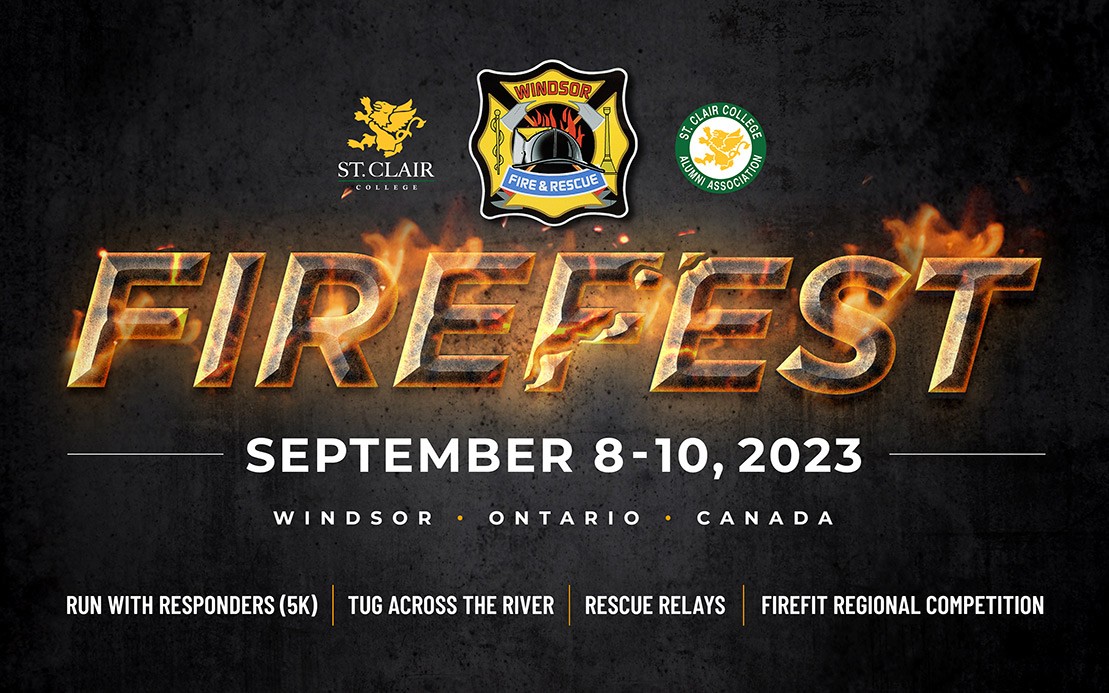 Windsor FIREFEST Weekend Schedule
Windsor's FIREFEST is back showcasing firefighting skills at the Riverfront Festival Plaza demonstrated in 4 rugged activities:
T2B RESCUE RELAYS
Friday, September 8 – 5:00 p.m. to 9:00 p.m.
Community and local businesses embark on the ultimate challenge participating in an exclusive event.
Featuring an adrenaline-pumping good time for teams that want to show their support for local firefighters while also benefitting area residents.
Proceeds benefit Transition to Betterness. Their mission is providing comfort, care and dignity to the lives of individuals and families facing challenging times.
Join the ultimate challenge! This is a one of kind obstacle course that local fire stations, the media and the community will compete on. Only room for 20 teams. Participants must be 18+. Click here to sign up today!
TUG ACROSS THE RIVER
Saturday, September 9 – 5:00 p.m.
Location: Dieppe Park in Windsor and in front of Hart Plaza in Detroit
Windsor vs. Detroit
25 firefighters in each country pull a 1,500 meter rope attached to buoys from middle of the Detroit River to their respective side. First to touch wins!
Detroit won in 2022 and hold a 14 to 13 edge in this competition.
RUN WITH RESPONDERS
Saturday, September 9 – 9:00 a.m.
Distances include a 5K Run or Walk, Kids 1K and Kid's Dash.
Start and finish at Windsor's Riverfront Festival Plaza
Run or walk on a closed road course including Riverside Drive.
Featuring Police, Fire and EMS vehicles along the route in honour of local first responders.
Proceeds benefit Canadian Mental Health Association-Windsor-Essex County (CMHA-WECB) and Law Enforcement Torch Relay for Special Olympics Ontario
Resident runners are invited to register for the five-kilometre (5K) route along Riverside Drive. Click here to register today!
FIREFIT WESTERN ONTARIO REGIONAL
Saturday, September 9 and Sunday, September 10 – 10 a.m. to 5:00 p.m.
Competition based on firefighting tasks commonly performed in emergency situations.
The course is very demanding, made up of tasks performed while on the job like running up and down 5 stories, drawing and aiming a fully loaded fire hose, carrying victims, and more – all while wearing full firefighting equipment
Cheer on Team Windsor
OTHER ACTIVITIES:
KID ZONE & FANS in the Stands
Features miniature version of the Firefighter course (includes ladder climb, run with hose and more). Face Painting, Balloon Sculptures, Chalk Graffiti, Bubbles and Mascots – lots of Mascots. Feel what it's like to suit up as a Firefighter. Take a selfie at the Firefighter Gear Station (variety of equipment sizes to choose from).
HEALTH HUB & EDUCATION STATION
Post a positive message for firefighters and other first responders on "Thank You" Walls. Medical Service Clinic Mobile Unit will be open for tours and general information on health services.
VENDORS VILLAGE
Variety of food & beverage options
BEER GARDEN
Open to the public.
Proceeds will benefit four organizations:
Meet the Windsor Firefighter Challenge Team!
This is the 18th year Windsor Fire & Rescue team members participate in these events.  Many have experienced successes including setting numerous records and winning Canadian National and World Championships while competing across Canada and USA. Members train and compete on their own time and at their own expense.  The team is proud to have won, and donated to the City of Windsor, a variety of prizes including 7 thermal-imaging cameras valued at over $130,000.
Carlton Ylinen
Chris Horvath
Darren Quennell
Jack Bailey
Jason Laughland
Kory Bremner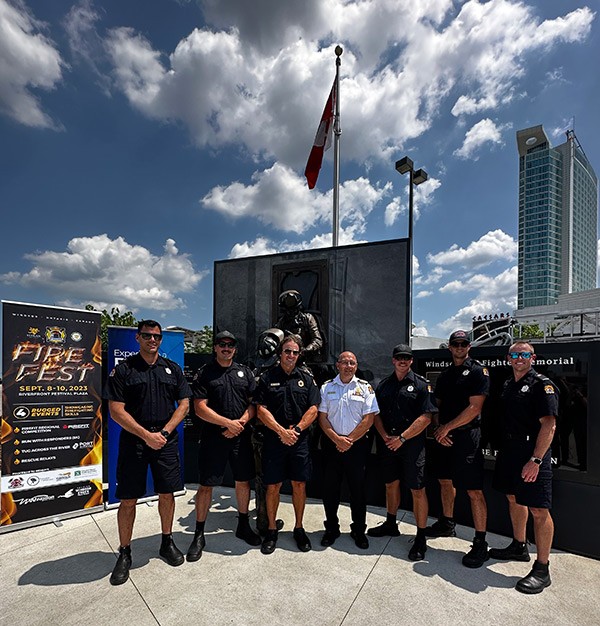 Success: Windsor Firefighters
FireFit Canadian Hall of Fame: 4 Windsor Firefighters currently inducted
| | | |
| --- | --- | --- |
| 2002 | Deerfield Beach, Florida | Men's Team |
| 2002 | Deerfield Beach, Florida | Men's Relay |
| 2003 | Ottawa, Ontario | Men's Team |
| 2003 | Ottawa, Ontario | Men's Relay |
| 2004 | Las Vegas, Nevada | Men's Relay |
| 2004 | Las Vegas, Nevada | Female Individual |
| 2006 | Henderson, Nevada | Men's Tandem |
| 2009 | Las Vegas, Nevada | Over 40 Men's Individual |
| 2009 | Las Vegas, Nevada | Over 40 Tandem |
| 2010 | Myrtle Beach, South Carolina | Over 40 Men's Individual |
| 2011 | Myrtle Beach, South Carolina | Over 40 Men's Individual |
| 2011 | Myrtle Beach, South Carolina | Open Men's Tandem |
| 2011 | Myrtle Beach, South Carolina | Over 40 Men's Tandem |
| 2014 | Phoenix, Arizona | Over 45 Men's Individual |
Partners
Thank you to our partners: