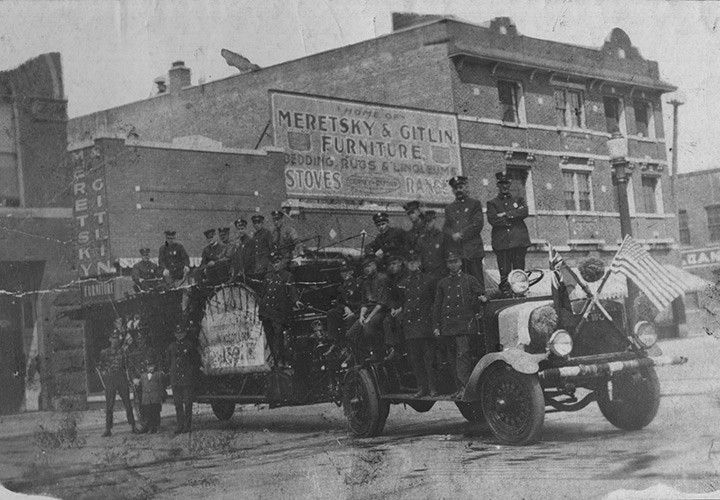 With their eye-catching bright red paint, fancy gold-leaf trim and impressive overall appearance, the Windsor Fire Department's apparatus often led many of the big parades in Windsor – most notably the city's annual Labour Day parade at the beginning of September.
This interesting photo – the actual occasion unknown – was taken sometime in the early-to-mid 1920s in front of the former Windsor Fire Department Headquarters Station on Pitt Street E., across the street from the City Market. The hall was built in 1888 and was demolished after the new W.F.D. Headquarters Station was opened immediately to the west in 1928. The Pitt Street hall was Windsor's Fire Station No. 2. Station 1 was on Wellington St. and Station 3 on Langlois Avenue.
In the photo, Windsor's Ladder Truck Number Two is all decked out for a parade. Note the crossed Canadian and American flags in front of the radiator, and the colorful bunting on the hood, bumper and front fenders. If you look carefully, you can see the number T W O spelled out in brass numerals on the radiator. We count 17 firefighters riding on the rig, with three more – including a juvenile mascot in full uniform – near the rear wheels.
The truck is a 1916 Menard motor truck tractor pulling a formerly horse-drawn 1910 W.E. Seagrave 85-foot spring-raised aerial ladder truck trailer. Note also the half-fold life net on the trailer, and the tillerman who steered the rear wheels of this long rig. Windsor's very first aerial ladder truck, the Menard/Seagrave was damaged at a fire in 1935 and was scrapped. The tractor was sold to a Mr. B. Jasperson in Kingsville. – Walt McCall