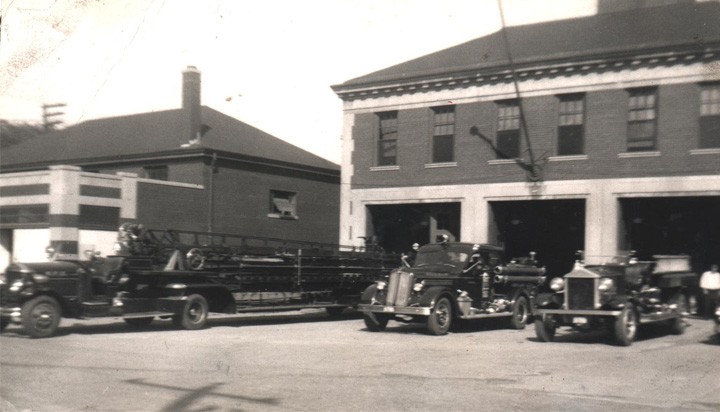 In a firehouse ritual that continues to this day, Saturday morning is "washout day" at least once a month at Windsor's fire stations.
Weather permitting, of course, the apparatus is moved outside and parked on the fire station ramp, or apron, while the apparatus floor is hosed down and scrubbed clean by the duty shift crew. While the floors are being mopped down, other crew members inventory and check each piece of equipment on the pumper, aerial truck or rescue squad. The work done, then it's into the kitchen for a bowl of hot soup or coffee, or an early lunch.
For fire buffs, "washout day" presents a wonderful opportunity to photograph the apparatus sitting out in the sunshine – something I've been doing on Saturday mornings for many years.
On a bright summer morning in 1955, I snapped this photo at Fire Station No. 2 on Richmond St. at Walker Road. To my delight, the station's three pieces of apparatus were sitting out in the morning sunshine just waiting for me when I hopped off my bike with my trusty Kodak Brownie camera.
Arrayed like toys under a Christmas tree are Station 2's rigs as they looked that warm summer morning more than 60 years ago. From left to right are Aerial No. 1A, a 1936 American-LaFrance tractor-drawn, tillered  85-foot spring raised aerial ladder truck; Engine No. 3, a 1950 Bickle-Seagrave 1050 gpm canopy cab pumper, and old Engine No. 2, a 1929 Bickle pumper used as a spare, filling in for front-line rigs in the shop for maintenance or repair. Interestingly, the `29 Bickle began its fire service career this same hall – formerly the Walkerville Fire Department Station 1 –  26 years earlier, two years after the hall was opened. The building on the left in this photo was the W.F.D. apparatus and repair shops, prior to the 1935 annexation of the former town of Walkerville by the City of Windsor, the Walkerville Public Market.
The old Station 2 was closed in 1983 and demolished. The modernistic new Station 2 station that replaced it  on the same site the following year was closed in early 2015, when Windsor's third Fire Station No. 2 opened on Milloy St. at Chandler Rd.
By Walt McCall