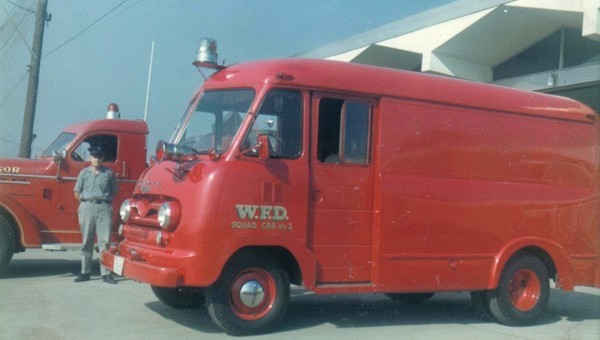 Following the annexation by Windsor of Riverside and a portion of Sandwich West Township on January 1, 1966 the Windsor Fire Department acquired half a dozen pieces of fire apparatus from the two suburban departments — which were subsequently integrated into the W.F.D. fleet.The three former Riverside rigs – two pumpers and an aerial – were covered in an earlier installment in this series. While Windsor took over all of Riverside's apparatus, just three of Sandwich West's rigs were transferred to the W.F.D. equipment roster.
The former Sandwich West apparatus included two commercial-chassis pumpers and a van-type emergency/rescue unit – as well as the former Sandwich West Fire Hall on the Third Concession Rd. This article will focus on the rescue vehicle. The pumpers will be profiled in a future submission.
The Sandwich West Township Fire Department covered a large suburban area southwest of Windsor. In 1959, the SWFD augmented its pumper/tanker fleet with a new rescue unit. Built on a forward-control Mercury chassis, it had a large parcel delivery type van body made by the Welles Corp., a school bus and truck body builder located in Windsor. The Emergency Unit carried a variety of rescue and other gear, responding to motor vehicle accidents as well as fires.
The low-mileage van was only six years old when Windsor annexed a large portion of Sandwich West Township on January 1, 1966. The former Sandwich West rescue unit was redesignated the W.F.D.'s Squad Car No. 2 and placed in service at the new (1964) Station 4 on College Ave. Two years later the `59 Mercury van was replaced by a new Chevrolet heavy rescue unit. Still in good condition, the van It was then reassigned to the W.F.D. water rescue dive team.
With the delivery of a second new heavy rescue truck in 1970, the Mercury rescue van was disposed of as surplus sometime in the early 1970s.Newest of these units was a 1960 King-Seagrave Chevrolet 625 gpm pumper and an International Metro rescue unit. The third was a 1953 Bickle-Seagrave Chevrolet pumper.
The 1960 pumper was relettered as Windsor's Engine No. 8 and remained in the former Sandwich West hall on Third Concession Road on the city's far south side. The `53 Bickle-Seagrave was relettered Engine 10 and assigned to Windsor's headquarters station on Goyeau St. The 1960 International van was used as an equipment carrier, and later by the W.F.D. dive team.