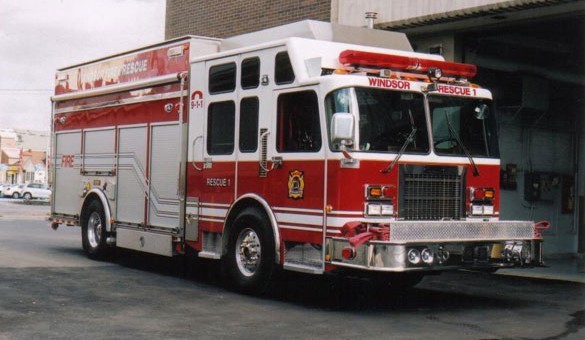 Three-quarters of a century later, one can only wonder what the members of Windsor's very first rescue squad would think of Rescue 3 – Windsor's current heavy rescue apparatus.Compared with their wide-open 1929 Studebaker – a former chief's car converted into a rescue squad by the Windsor Fire Department Shops – the 2000 Saulsbury/Spartan now running out of Station 3 would seem absolutely humongous – about the size of one of Windsor's old single-bay clapboard fire stations. The entire four-man crew of Windsor's original life-saving squad could practically live inside Rescue 3's spacious cab!Today, Rescue 3 probably carries more gear in its numerous external equipment compartments than could be found on all of Windsor's rigs in the late 1920s. And what to make of the collapsible light tower that rises out of the squad's roof, the big self-contained power generator, and modern rescue tools like the Jaws of Life?
In those thrilling days of yesteryear, firefighters thought nothing of rushing headlong into smoke-filled buildings without breathing apparatus of any kind. Real firemen, it was believed back then, had leather lungs! Just like life itself, firefighting has gotten a lot more complicated (and, thankfully, safer) since Windsor formed its first rescue squad in 1933.
Delivered to Windsor Fire & Rescue in the late summer of the first year of the new millennium, Rescue 1, as it was originally lettered, was built by Saulsbury Fire Apparatus in Preble, N.Y., just off Interstate 81 about 20 miles south of Syracuse. Sam Saulsbury started selling fire equipment just after the Second World War. In the late 1950s he designed and built a tanker for the Preble Fire Department, of which he was then Chief. So solid was the basic design that other fire companies in the area asked Sam to build fire trucks for them, too. The rest, of course, is history.
Saulsbury Fire Equipment's first plant was in Tully, N.Y., just up the road from Preble.
At first, Saulsbury made only rural style tankers and brush fire rigs but later added pumpers to its highly-regarded product line. But Saulsbury really found its niche building highly-specialized custom rescue squad bodies. By the 1970s the company was the acknowledged leader in heavy rescue truck design and manufacture. Saulsbury turned out some truly gigantic heavy rescue units on International Paystar construction type chassis for Syracuse, N.Y. and a number of massive tandem-axle Mack rescues for New York City (FDNY) – several of which were lost on September 11, 2001.
In 1988 Saulsbury Fire Apparatus moved into a much larger, modern new plant in nearby Preble. A decade later the company was acquired by E-One Inc. of Ocala, Florida. The Preble plant was closed at the end of 2004 and all Saulsbury pumper and rescue truck production was moved to E-One's home plant in Ocala.
Saulsbury has delivered a number of rigs to Canadian fire departments, including some rescue pumpers for Burlington, Ontario. Windsor purchased three rigs from Saulsbury, all on Spartan chassis, in 2000. In addition to the heavy rescue unit – relettered Rescue 3 two years ago – the order also included the E.S.U. unit and the rearmount pumper wrecked in the tragic rollover accident near the Ambassador Bridge in early March of 2007.